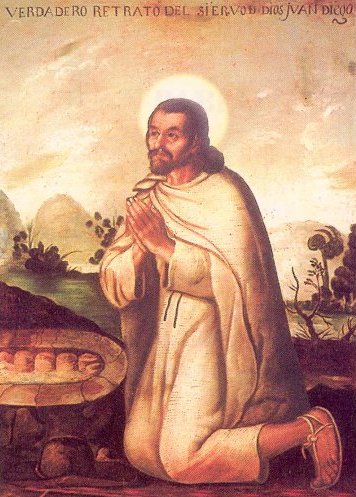 I received many letters of love and concern during my husband's protracted and complicated hospitalization at
Mayo Clinic
in the last half of 2004, but none more touching or meaningful than one which arrived in early December of that year. As summer gave way to fall, and fall to winter, the march of months seemed incomprehensible, otherworldly, an enormous weight, as we fought for a life worth saving in our frozen corner of southeastern Minnesota.
The Christmas holidays were fast approaching when someone a state away, across the rugged and beautiful Mississippi River, chose to sit down and and pen a note of unconditional prayerful support on the
Feast of Juan Diego
, while attending a board meeting that my husband was missing on
the bluffs overlooking La Crosse
. As pen to paper, it was priceless, personal, and will be forever treasured for its ability to lift my spirits at a time of enormous adversity.
Opening that letter meant the world to me. Someone out there who wasn't compelled to write the note was moved to do so, actually cared, and was reaching out, straight to the heart of our difficult battle.
That person was Tim Dolan.
Timothy Michael Dolan was born February 6, 1950, in Saint Louis, Missouri, the first of five children. He studied at Saint Louis Preparatory Seminary and Cardinal Glennon College, where he studied philosophy. After receiving his Bachelor of Arts, he ventured across the sea to Rome to continue his studies at Pontifical North American College and the Angelicum.
In June 1976, he was ordained to the priesthood, and three years later began doctoral work at Catholic University of America. He has served as secretary to the Apostolic Nunciature in Washington, D.C., Vice-Rector of Cardinal Glennon Seminary, Adjunct Professor of Theology at St. Louis University, Rector of the Pontifical North American College in Rome, and teacher at Pontifical Gregorian University and the Angelicum.
He received his episcopal ordination on August 15, 2001, from Archbishop Justin Rigali in Saint Louis, after being appointed by Pope John Paul II to serve as Auxiliary Bishop of Saint Louis.
On June 25, 2002, he became the
Tenth Archbishop of Milwaukee, Wisconsin
, a position he has held honorably these past seven years as a man of courage,
conviction
and compassion.
A week from today, on Easter Wednesday, April 15, 2009, Timothy Michael Dolan, firstborn son of Robert and Shirley Radcliffe Dolan, will be installed in Saint Patrick's Cathedral as
Tenth Archbishop of New York
.
Archbishop Timothy Dolan.
Never underestimate the power of a written note.
Ad Quem Ibimus.

Lord to whom shall we go? You have the words of eternal life.- John 6:68