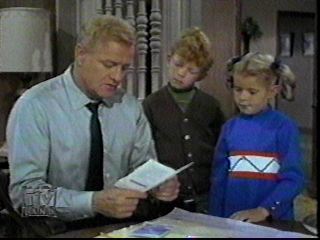 Mention the name Johnny Whitaker to most people, and they recall fondly the television series
"Family Affair"
from the 1960's, a warm and fuzzy show headed by Brian Keith as a bachelor uncle who ends up raising two nieces and a nephew after they're unexpectedly orphaned.
Johnny Whitaker was 'Jody' of 'Buffy and Jody' on that show, a smiling, freckled, tousle-headed boy who charmed his way into the hearts of millions.
Prior to that show's run on network television from 1966 to 1971, Johnny had appeared in a couple of small roles, including as a very young Scotty Baldwin on the ABC soap opera, "General Hospital." During his time on "Family Affair," he had a memorable appearance as "The Littlest Angel" in the made-for-television special of the book, and after the end of his on-screen life as Jody, he famously appeared in the 1972 film "Napoleon and Samantha," co-starring a likewise young Jodie Foster. He teamed with Foster again in the starring roles of the 1973 musical version of "Tom Sawyer," which was nominated for three Academy Awards. It was from Jodie Foster that he got his first on-screen kiss.
Johnny appeared in numerous television shows and films over the next several years, including guest appearances on network shows like "Gunsmoke," "Marcus Welby, M.D.," "Bewitched" and "Green Acres." In 1973 he starred in the Sid and Marty Krofft series, "Sigmund and the Sea Monsters" as Johnny Stuart.
After graduation from high school in southern California, Johnny came to Utah to study at Brigham Young University in Provo, Utah, and prepare to leave on a mission for the LDS Church, which is where I met him in the late 1970s. Like all young prospective missionaries then, Johnny needed to take the MLAT (Modern Language Aptitude Test), which at the time I administered weekly as part of my responsibilities at the Missionary Training Center, a place where missionaries came to spend several weeks doing intensive language and missionary training prior to departing for various corners of the world, domestic and foreign. One's performance on that particular test generally was a significant factor in determining where the missionary would ultimately be sent (those who did better on the test generally, but not always, tended to be sent to locations where language was more difficult). Afterward, I would score those tests and send them to the appropriate authorities for screening.
Johnny came up and visited with me for a while after the test, concerned about how he did. Happily, he did well, evidenced by the fact that he was sent to Portugal for two years on his mission.
Johnny and I enjoyed talking about the fact that at the time we both drove the same car. In fact, I'm fairly certain we had the only two Renault 5 ("Le Car") GTLs in the area. To have a chic little French car in Provo was, well, fairly unique. Mine was brown with a gold stripe and a sunroof, and had "Voulez vous Le Car Avec Moi" displayed prominently in the tiny rear window. Nice little car, that. 54 mpg. Long gone.
He was a really great kid, and I met him at a very interesting juncture in his life. It was not long after the horribly tragic death of his beloved "Family Affair" co-star, Anissa Jones, who played Buffy and had struggled with the challenges of surviving child stardom.
Two roads diverged.

Johnny came back from his mission and completed his studies at BYU, got a degree in communications, then formed his own computer consulting firm and worked in a Los Angeles talent agency, Whitaker Entertainment. He teamed in later years with psychiatrist Dr. Ron Zodkevich for a radio talk show, "The Dr. Zod and Johnny Show" broadcast on the Cable Radio Network. He has been actively involved in issues involving addiction and child stardom, and is a certified addiction counselor. He is President and Founder of Paso Por Paso, an organization whose primary focus is helping Spanish-speaking addicts receive treatment and enter recovery.
Like many child stars, John had his bumps in the road, but
he's happily still with us.
Johnny Whitaker.